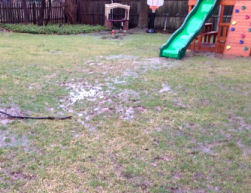 Is this your Yard?
Yard Drainage Services
If you have flooding in your front or back yard, driveway or basement, Cardinal Landscaping based in Madison, NJ, has not only seen it all, but fixed it all.
Yard drainage frequently occurs when an exterior area lacks proper grading, appropriate channel drains and connected downspouts. Even simple changes that arise in a neighboring lot can result in serious drainage problems within your yard and basement. Drainage issues left untreated overtime can cause serious damage to not only your property, but to your home. This resulting long-term damage can be very dangerous to your home's health and result in expensive corrective action. Therefore, if you are experiencing water issues, you must take action. At Cardinal Landscaping, we bring years of experience to your project and solve your water drainage problems efficiently, effectively and affordably -- keeping your property and home dry!
Yard and Basement Drainage Solutions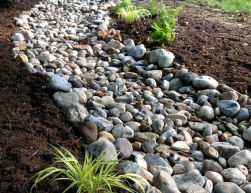 Swale and River Stone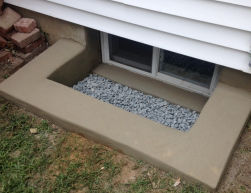 Window Well
(also available in metal)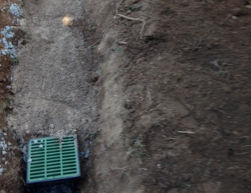 French Drain Construction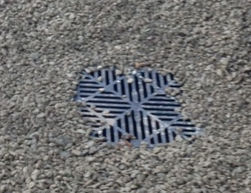 French Drain & Dry Well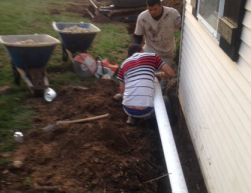 Underground PVC Pipes Connected to Downspouts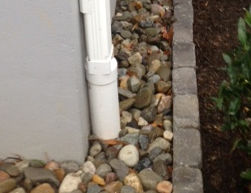 Tie In Downspouts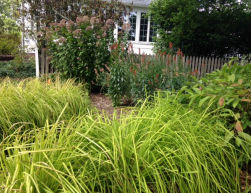 Rain Garden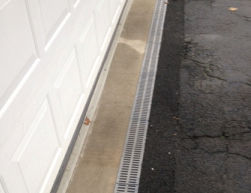 Channel Drain
OUR BASEMENT is BONE DRY

I initially thought my yard and basement's water situation was hopeless. After you corrected our issues, our basement has been BONE DRY all summer and fall and I love the way you created my new rain garden -- it's beautiful! I will be sure to refer you and your team to everyone who is looking for a solution to yard drainage issues. John, thank you so much!- Beth, Chatham, New Jersey

To effectively solve property drainage issues, Cardinal Landscaping can employ many different solutions to uniquely address and solve your issues.
French drains - When water drainage occurs, French drains are installed to collect runoff water. This prohibits water from traveling to lower points of the property. Sometimes, French drains are covered again with lawn in order to blend in with the rest of the property, maintaining the beauty of your exterior area.
Catch basins - Typically accompanying the French drain system, catch basins are especially useful when installed for lawn and patio purposes. Catch basins usually consist of boxes with grates that collect water, which prevents any potential ponding and runoff. To add, catch basins can also connect to PVC pipes in order to drain water from a particular area.
Open drains - Like French drains, open drains collect runoff water. However, open drains are left unclosed and are covered in gravel, which is advantageous because it consumes all additional water.
Dry wells Placed in the ground to recharge rainwater, dry wells are tanks that restore water to the underground aquifer. Typically no larger than fifty gallons, dry wells create an easy and efficient way to recycle water while also avoiding the possibility of yard drainage on your property.
Swales and river stone - Allowing water to run through them, swale and river stones are an ideal way to redirect water away from are pooling. Stones also stabilize the ground, which benefits the overall goal to protect your yard and prevent any kind of drainage.
Grading around foundation - Any negative angle towards the foundation of your house can culminate into a wet basement. Therefore, creating an appropriate pitch around the foundation of your exterior is essential.
Downspout clogs, ruptures, disconnections - After evaluating whether the pipes in your yard are clogged, disconnected, or just in need of restoration, you can properly and successfully attack the downspout issue. Maintaining downspouts and keeping them clean is essential to preventing water from being stopped by debris or an underground drainage problem.
Channel drains - In order to prevent water from reaching your patio, garage, or basement, channel drains facilitate water to another part of the property. For situations that involve driveways that lead water into your garage, installing a channel drain and PVC pipe may be necessary.
Underground PVC pipe installation - By installing PVC pipes, water from downspouts and the gutter is pushed away from your property. Additionally, PVC pipes can serve as a channel for water to transfer from a collection basin to a lower point on your property
Infiltration trenches - Installed to prohibit erosion from occurring, infiltration trenches collect water from various sources, such as catch basins and downspouts, and transfers it along a calculated expanse. Infiltration trenches are substitutes to steering water in the direction of the sewer.
Rain gardens - As one of the most attractive ways to prevent water runoff and yard drainage, rain gardens consist of various native plants that are especially skilled in absorbing water. With these plants surrounding a small basin, water is collected and recharged back into the ground. In addition, rain gardens simultaneously create a unique environment for butterflies, bees, and other animals while also solving the issue of yard drainage in your exterior area. Since many cities and towns are beginning to enforce regulations discouraging homeowners from running water into public sewers, rain gardens are the perfect way to prevent drainage while also maintaining the beauty of your yard!
INCREDIBLY DRY

I initially thought my yard and basement's water situation was hopeless. But, after the work was completed, there has not been any standing water in our basement and backyard! Again, great job, thanks.- Brian, Madison, New Jersey

Why Homeowners Choose Cardinal
Here at Cardinal Landscaping, we emphasize the importance of carefully identifying, analyzing, and resolving drainage issues. With our time-tested drainage solutions, we easily solve any chronic water and drainage problems.
Drainage Assessment
Our professional expertise is demonstrated through our drainage assessment service, which is conducted in order to accurately determine the extent of each situation.
Solution Identification and Options
After this initial assessment, we develop a detailed proposal, which informs home owners about their specific drainage situation and advises the proper solution. Overall, our services range from dry wells to French drains and catch basins installations, and we address each issue head on by carefully diagnosing the drainage problem and immediately repairing it!
We Understand the Madison, Chatham and Morristown terrains.
If you are looking for a local Yard and Basement Drainage Service company near you, look no further as Cardinal Landscaping. For years, we have been providing basement and property drainage solutions in the area -- and we have seen and fixed every type of issue. Besides, Morristown, Chatham and Madison, we also server the following and surrounding areas:
Chatham
Convent Station
Florham Park
Green Village
Harding
Madison
Mendham
Morris Plains
Morris Township
Morristown
New Vernon
Fix Your Property Drainage Issues Today!
Cardinal Landscaping, the TRUSTED Local Property Drainage Company
Our team is dedicated to approaching your water issues efficiently and effectively, giving you the absolute best results! Our history of successful water drainage solution implementations is a testament to the quality of our process. Whether, it is the establishment of dry wells, infiltration trenches, rain gardens or swales, we have given homeowners peace of mind for over two decades.
If you are looking for a solution to your yard drainage problem, contact Cardinal Landscaping by phone at 862-204-9428 or email for a FREE drainage assessment and estimate.